During the month of October, two staff members from the Office of Student Activities announced their departure from Stevenson University.
Kipp Colvin, assistant vice president, and Hope Miller Miles, assistant director, both respectively left their jobs at Stevenson University to pursue careers in the Human Rights Campaign and at George Mason University.
Colvin became the Senior Communities and Volunteer Relations Manager with the Human Rights Campaign (HRC), which promotes LGBTQ equality, specifically in the United States. Colvin is in charge of leadership and personal development for community leaders and volunteers, and he will go into different communities that may be experiencing discrimination and inequality.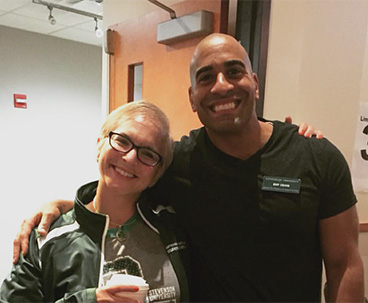 Colvin has worked in student activities at other universities for the last 14 years with responsibilities similar to his four years in student activites at Stevenson University.
"I've been really lucky that students have allowed me to go on their college journey with them and engage them in different ways," said Colvin. He explained that one of his favorite memories at Stevenson was connecting with the students and being able to impact lives.
"Going to the HRC and understanding that [conflict-resolution and conflict management skills] are going to be on a bigger level. Understanding that what I'm doing right now may affect the ability for someone to live in an apartment that they've never been able to live in before, because their landlord has been discriminating against them, because they are gay… that is big," said Colvin.
Miles moved to another higher education institution, George Mason University, to become the Associate Director of Student Involvement for Programming.
Miles's new position is supervisory and less hands-on with student employees and programming. She will organize the annual Mason Day, a festival at George Mason that includes food trucks, carnival rides, and a concert, and will serve as a co-chair on the university's homecoming committee.
During her nine years at Stevenson, Miles coordinated the student employee training program on Blackboard and then enhanced the program to incorporate student supervisors into the staff. Popular Stevenson events, such as Wet 'n Wild Day and the Fall Carnival, are also legacies of the former assistant director.
"None of my accomplishments have been achieved without the work of the programming board. Any accomplishment that I could enjoy is a we, not an I," said Miles, who oversaw the Mustang Activity Programming Board (MAP).
Colvin's final day was Oct. 25 and Miles' was Nov.2.