This coming summer, Stevenson University will offer a study abroad trip for students to Dublin, Ireland, and Lisbon, Portugal.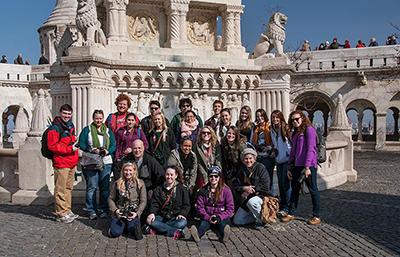 The trip help will help students learn about different cultures and gain a perspective of leadership. They will be taking a management course for business administration credit.
"Portugal was a more interesting choice while Ireland was the easy choice because I have taught in Ireland several times. I have been in and out of the country a lot and have always known it to be very American friendly," said Romas Laskauskas, assistant professor of international business, who will tracvel along with Sidas Saulynas, assistant professor of information systems.
The trip is open to juniors and seniors, with some sophomore exceptions, in any major. All students attending are required to have at least a 2.5 GPA.
In Dublin, the students will stay in university housing, and in Lisbon they will stay in a hotel.
Laskauskas said the trip costs $4,850 plus the course tuition, $1,500, which brings the total cost to $6,200. The cost covers the students for eight days in Dublin and eight days in Portugal.
The group will visit international businesses, cultural centers, the City of Dublin Education and Training Board, and the Irish Bank. Students will have the chance to immerse themselves in a culture that is different from their own and gain valuable international experience.
Students will also get a chance to interact with people from the two cities and learn about their lives while sharing some of Stevenson's core values with them. They will learn about exchange rates, the economy, and each country's governing body.
Laskauskas said the No. 1 priority is student safety, and Dublin, as well as Lisbon, are safe and off the radar for many dangerous situations. Expense was also taken into consideration when choosing the locations for the trip.
During the trip, students will have the opportunity to broaden their knowledge of the language, food, and traditional customs of the two different societies. Stevenson students have never studied abroad in Portugal before, so this experience will be a new and exciting one.