Stevenson University's women's volleyball finished the regular season 24-7 overall and 8-0 in the Middle Atlantic Conference (MAC). The team moved up two spots in the NCAA Mid-Atlantic Region rankings to No.7. With a decisive 3-0 rout of Widener University in the semifinals of the conference tournament, the Mustangs continue to win on their road to the NCAAs, extending their win streak to 16 matches.
The  team moved up two spots to No. 7 in the Mid-Atlantic region in this week's NCAA Division III women's volleyball regional rankings.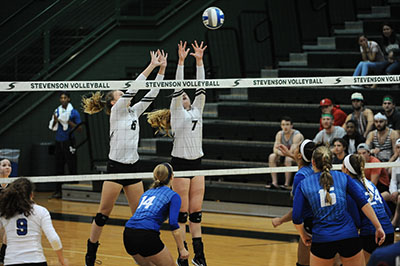 The Mustangs ended the regular season with three straight road wins to solidify their standings in the MAC, going 3-2 at Lebanon Valley, 3-1 at Alvernia College and 3-1 at Johns Hopkins University. The team's winning streak extended to 15 winning games for the season, with no losses in October.
Head coach Dave Trumbo, is a significant factor in the success of the Mustangs this season. With 10 years of experience at Stevenson, he enjoys being able to mold the players into a team as they prepare for competition.
Before each game, Trumbo said, "competitive practices are held, films are watched of the other teams so their tendencies are shared with our players and the other teams stats are looked at beforehand. Then we have to play our game."
For a fifth season, the team finished undefeated in the MAC. In the conference playoffs, the Mustangs 3-0 win against Widener College in the semi-finals saw junior outside hitter, Annika Schwartz' 12 kills and nine digs help to lift Stevenson into the title game. The team had only five service errors on the night.
Freshman middle hitter Victoria Prokic said that everyone is supportive of each other on the team, and getting along with all of her teammates allows the game to be fun.
"Coach Trumbo and the team, hold each other to a very high standard of performance, and I believe that is one of the reasons we are so successful," said Prokic, who has high hopes of hosting the MAC championships Nov. 5.
Schwartz was named the MAC Commonwealth Player of the Week on Oct. 31, for the first time this season. Schwartz is one of just two players to appear in every set for the Mustangs, and has a team-high 402 kills, second in the conference in kills per set, according to gomustangsports.com.
The Mustangs will play in the MAC-Commonwealth finals on Saturday, Nov. 5, against Messiah College at 5 p.m. in the Owings Mills gymnasium.