Stevenson University women's volleyball team (26-7) won its fifth MAC Commonwealth conference title with a victory in the tournament finals against second-seeded Messiah College on Nov. 5.  Of the teams in the conference, Stevenson is the only team to have beaten Messiah this year.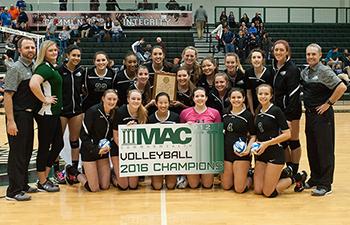 Messiah won the first and fourth games, resulting in the match going into a tie-breaking fifth game that Stevenson took 15-11.
Junior outside hitter Annika Schwartz was a highlight player of the game. In the fifth game, she had four kills and three blocks, according to gomustangsports.com. She was named the tournament MVP for the second year as she earned her 13th double-double.
"We worked really hard this whole season to get to this goal. At the very beginning of the season, our goal was to go to the NCAAs and do well in the NCAA tournament, to go far. I think we've been working all year towards that. We've been thinking about this week for the whole season. So we're all really excited and we're ready to show what we have in the tournament," said Schwartz.
This win has secured Stevenson a place in the NCAA Division III women's volleyball tournament. If Stevenson wins three games during the tournament, the team will earn a spot in the Elite Eight at the national tournament.
Stevenson currently ranks seventh in the Mid-Atlantic Division III women's volleyball region, moving up two spaces after beating Widener University last week. Led by experienced head coach Dave Trumbo and a team with a strong work ethic, the Mustangs believe they have a chance at winning the national tournament this season.
The team has accounted for 1,525 kills, 4172 attacks and 2016.5 points this season. They work well together with a balance of eager rookies and experienced upperclassmen.
Fifth-seeded Stevenson will play Randolph-Macon (fourth seed) in the first round of the NCAA regional tournament on Friday, Nov. 11, at 5:30 p.m. at host University of Mary Washington in Fredericksburg, Va. The pairing is a rematch of last year's tournament run, in which the Mustangs lost to the Yellow Jackets 3-1. Stevenson will be making its sixth straight NCAA trip after winning the MAC Commonwealth championship.
If the Mustangs win on Friday, they will face the winner of No. 1 seed Mary Washington v. No. 8 seed Cabrini in a regional semi-final to be held on Nov. 12.