The Art Gallery, located on the Greenspring campus in the Dawson Center, has debuted an exhibit titled Certain Risk that opened last month on Oct. 17, 2016.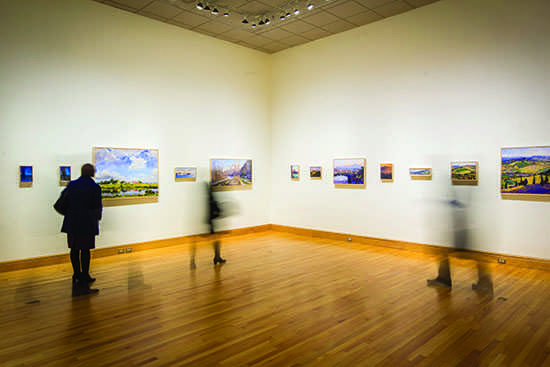 A reception for the exhibit took place shortly after opening.  Among those who attended were various Stevenson students, staff and guests from the surrounding community.
Matthew Laumann, director of cultural programs and exhibitions, played an important role in the Certain Risk exhibit as he worked with the artist, Andrew Snyder, to bring his vision alive.
Snyder, a Maryland-based ceramicist, created and designed the pieces in the exhibit. Snyder's overall goal was to convey the merging of new methods of art creation with traditional art materials, such as clay, as well as to put imaginative thought into the process of art creation leading to the final product, said Laumann.
The exhibit consists of ceramic pieces that tell a story and represent contemporary issues. According to Laumann, Snyder believes that "…as time goes on, tradition must continue to find ways of integrating with contemporary ideas in order to not be left by the wayside."
This is Snyder's first exhibit at Stevenson, though his other exhibits are located across the region. Some of these include Art in the Garden at the University of Delaware Botanical Gardens in Newark, Del., in 2013; The Battle of the Bowls at the Academy of Fine Arts in Lynchburg, Va.; and, also from 2013, the Strictly Functional Pottery National at the Kevin Lehman Gallery in Lancaster, Penn.
Stevenson University has been hosting exhibitions on campus for 20 years. The gallery opened in 1997, and Stevenson has hosted nearly 200 exhibitions over the past two decades, said Laumann.
The Certain Risk exhibit will remain open until Dec. 15, 2016.