The Best Buddies club will host its third annual "Friendsgiving" event on Nov. 20, 2016, from 3-5 p.m. in the Ratcliffe Community Center on campus.
This is the club's second year working collaboratively with M.I.L.E, an all-male club on campus, for this event.
Best Buddies is an organization in which Stevenson students are partnered with a buddy, someone with intellectual and developmental disabilities, for entertainment and other activities such as crafting or taking trips. M.I.L.E. is Stevenson's Male Initiative Leadership and Excellence club, a career-oriented organization that promotes men in a positive light. These two clubs are working collaboratively to plan a special event that brings together, not only these two clubs, but brings the buddies together as well.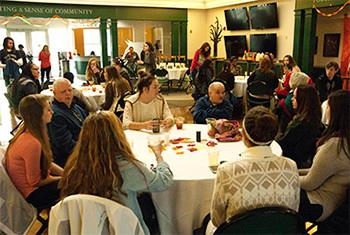 During their Friendsgiving, the buddies will help prepare a traditional Thanksgiving meal with a turkey and all the fixings. Each buddy will have an opportunity to cook and prepare a specific part of the meal, something they may not be allowed to do where they live, said Kaitlyn Madigan, president of Best Buddies. Since the kitchen in the Ratcliffe Community Center is small, the buddies will take turns in various shifts, and while they aren't cooking, they will be participating in a craft that M.I.L.E has created for them, Madigan added.
The crafts are different each year so that participation remains interesting and fun for those in attendance. M.I.L.E. has several crafts planned for this year's event. There will be small pumpkins for painting, Thanksgiving bingo and a station for making Thanksgiving-themed ornaments, said Paul Farrell, a member of M.I.L.E. The club also plans on creating a game that will include decorated cups made to look like turkeys that the buddies can shoot with marshmallow-filled nerf guns, said Farrell.
After the meal preparation is finished and all of the crafts have been made, the group will come together to enjoy dinner and the crafts that have been put together by the buddies.
Because this is an event that demands specific materials, Best Buddies and M.I.L.E. will provide what is needed to make the event a success. While the event is planned just for the two clubs, those who are interested in joining in are welcome to stop by at any time.
For more information on the clubs, go to stevenson.edu. and for more information on the "Friendsgiving" event contact Kaitlyn Madigan.