The Mustangs defeated No. 24, Stevens Institute, on Nov. 19 in a 56-51 defense-driven win to open the season on the road.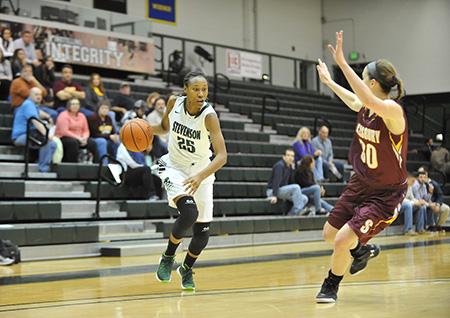 "Our post defense did not allow one high/low pass…we took them out of their uncomfortable offense," Boswell said. Senior guard Kameron Ward and sophomore guard Jonyae Curry, finished the charge defensively for the team in the waning minutes on the contest.
The team had a good offensive stride as well. Senior forward Sara Tarbert led the Mustangs with 21 points and junior point guard Imani Sanders and Curry combined for 18 points. The team shot just over 36 percent, limiting the Ducks to about 28 percent.
The team hopes to continue their defensive tenacity against their rival, Salisbury University, when the two teams clash on Nov. 22 at Salisbury.
The Mustangs will travel to Nashville, Tennessee, for the Music City Classic Dec. 29-30. The trip will be "fun" and "good preparation" for the team, said Boswell. They will face two highly competitive teams, Lynchburg College (Virginia) and Carthage College (Wisconsin) on the road in Nashville after Christmas. Boswell said that going into the "unknown" and being able to prepare for out-of-conference teams will prepare the Mustangs for end-of-season play, as well as for the NCAA tournament.
The team not only plans to participate in the tournament, but to have fun as well. They will be visiting former Mustang player Brittney Paige, a nursing resident at Vanderbilt Hospital and the team hope to practice at the University of Tennessee in Knoxville. They will also visit the Pat Summit statue.
With a long season ahead, the team is working to maintain a positive approach throughout practices and to improve progressively over the next few months, said Rob Slopek, the associate head coach. The coaches work to make practices different every day and find ways to compete in and out of drills while still having fun, Boswell added.
The team's first home game will be against FDU-Florham on Saturday, Nov. 26, at 4 p.m., following the men's game against Penn State Berks at 2 p.m.
The Mustangs will play the MAC Commonwealth defending champions on Nov. 30, with hopes that their early experience will catapult them into a victory against Albright College.