Stevenson University's fall sports programs provided the university with highlights, achievements, memorable moments and championships in the 2016 fall semester. The following recap has been compiled from gomustangsports.com and box scores.
This season, Mustang football won its first-ever Middle Atlantic Conference football championship. Stevenson University's Division III football program is only in its sixth year, and a trip to the NCAAs was a team highlight.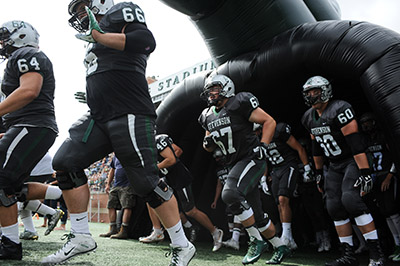 Although the Mustangs lost 38-17 to No. 18 Wesley in the first round, they still count this year as a standout. Junior quarterback Dan Williams was named the Middle Atlantic Conference's Offensive Player of the Year; senior defensive back Austin Tennessee was named Defensive Player of the Year and head coach Ed Hottle was named the league's Coach of the Year. A total of 17 Mustangs received All-Conference honors.
Men's cross country finished 15 out of 52 schools in the NCAA Mideast Regional Championship, concluding the season with a best-ever standing in the NCAAs. Sophomore runner Langston Gash set a new school record with an 8k time of 25:37.
The university's women's cross country team was also proud of placing 33 out of 51 schools this season in the Mideast Regional Championship.
The field hockey team won five of its 16 games this season, with senior Rosemarie Neiva scoring 11 goals. This was also the final season for seniors Blair Bitner, Holli Eppley and Gabriella Brooks, who led the team to its first conference title game in 2015.
The men's soccer team won three games and tied three out of their 19-game schedule, under new head coach Andrew Bordelon. The women's soccer team went 9-8-2 overall and 5-2-1 in the conference, and competed in the ECAC soccer quarterfinals, where their season ended.
The men's and women's golf teams offered some great highlights this season. Freshmen Matthew Maione shot his best score of 71, his second top-10 finish of the season. The team tied for fifth at the Franklin and Marshall Fall Invitational to finish the season.
The women's team won its second consecutive Eastern Invitational, and junior Morgan Wirtz was named Middle Atlantic Conference Golfer of the Month, twice. Wirtz was also named ECAC Division III women's co-golfer of the month.
The women's volleyball team won 26 of their 34 games this season, making it all the way to the first round of the NCAA Division III women's volleyball championship where they lost to Randolph-Macon University. Junior Annika Schwartz was named second team All American by the American Volleyball Coaches Association, and sophomore Moriah Savage was named an American Volleyball Coaches Association Honorable Mention All American.