The Greenspring Review is Stevenson University's newest digital literary magazine that debuted in the fall.
What is now known as the Greenspring Review was originally called This: A Literary and Media Journal. Kayleigh Marinelli, the magazine's editor-in-chief, said, "This didn't fit the vision of the magazine."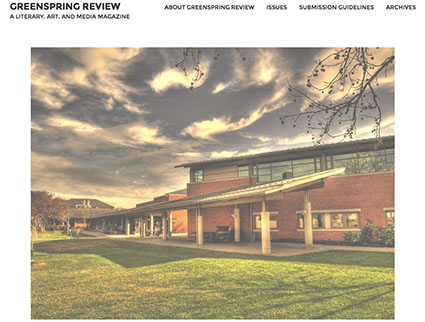 Ultimately, the staff decided to re-brand the magazine to help "clarify its nature and its role," said Dr. Gerald Majer, creative writing supervisor and professor of English. The staff chose this particular name because it connects the history of the school to the university's location.
The Greenspring Review was created with the help of Marinelli, other student editors and the faculty advisors.
WHAT THE MAGAZINE IS ALL ABOUT
Majer says that anyone in the Stevenson University community, including alumni, can submit work to the magazine. Submissions of creative writing, journalistic pieces, art, photography and fashion design are accepted.
"We especially want writers to send us reviews of movies, music, TV series, concerts and other cultural products. We also want students to send us photography, video and other media creations," said Majer.
Majer says the Greenspring Review is a digital magazine because "in today's world of publishing, digital is a well-established rising tide, while print is taking a lesser role," and can be easily accessed on all digital devices.
The Greenspring Review has big plans for the future. The staff hopes to expand readership and a wide range of featured works, encouraging everyone in the Stevenson University community to contribute.
The staff wants the Greenspring Review "to get far beyond the stereotype that a literary magazine is only for a small group of majors. We want to see work from everyone," said Majer. Ultimately the goal is to "diversify, innovate [and] explore the possibilities of writing and media arts."
Those interested in submitting work to the Greenspring Review should visit their website or contact Kayleigh Marinelli through campus email.