Volleyball gears up for conference play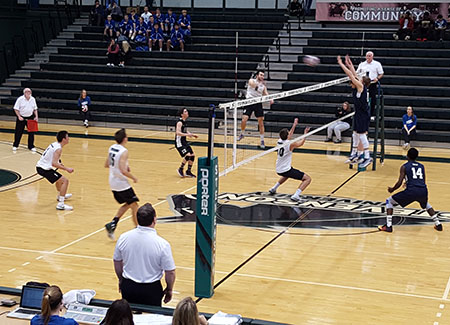 With a 2016 conference championship and an NCAA final-four appearance under their belt, the Stevenson men's volleyball program is ready for a successful 2017 season.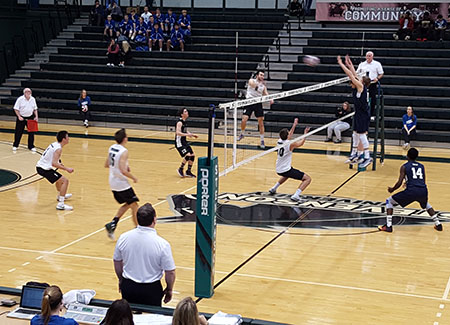 With the new year, however, some adjustments have been made. Three dominant players graduated in the off-season, while a search for a replacement head coach was also ongoing. This seemed to be an obstacle at first, but the players have used that adversity as motivation. They've successfully adapted to the circumstances by finding a new coach and stepping up on the court.
The new head coach, Olympic gold medalist Aldis Berzins, hopes to build on last season's success. Their primary goal is to repeat their Continental Volleyball Conference championship victory, and then to go forward from there.
"I want them to have a willingness to learn (which they do), persevere, and remain enthusiastic," he said.
Starting the season off strong with an overall record of 7 wins and 5 losses as of Feb. 9, the team is now fully adjusted and ready for conference play. Senior captain Nate Ellis said he most looks forward to playing Rutgers, Juniata, Marymount, and Eastern Mennonite during in-conference play. As for out-of-conference play, Ellis and his teammates are most excited for their home game against Stevens Tech on March 3, 2017.
Senior Mike Fehrs said that some of the team's goals are to "win the conference title and at least get an NCAA bid. Seeing as this is my last season, earning an All-Conference Award would be awesome, too."
Even off the court, the team has a history of being supportive of each other. According to Landon Shorts, 2016's ECAC Men's Volleyball Rookie of the Year, the team is extremely close-knit. "We are very supportive of one another and want the best for each other," he said. "Even off the court, we are like a family." With a soon-to-be graduating class of five players, the rest of the team has benefited from their veteran influence. "They have a lot of experience and represent what Stevenson men's volleyball is all about," said Shorts.
The next home game for the Mustangs will be on Friday, Feb. 17, 2017, in a conference match against Cairn University at 7 p.m.
Leave a Comment
Donate to Stevenson Villager
Your donation will support the student journalists of Stevenson University. Your contribution will allow us to purchase equipment and cover our annual website hosting costs.