The new year has already been an exciting one for music. R&B singer Kehlani's debut album SweetSexySavage makes a special statement. With mostly positive reviews, the unique album is a seemingly big success for Kehlani.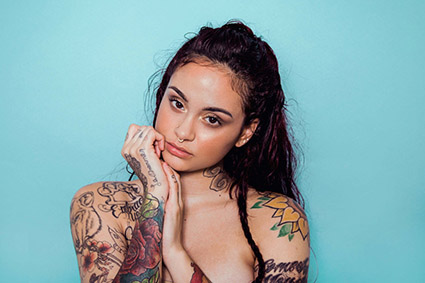 Kehlani Parrish, 21, was born in Oakland, Calif. Enduring a childhood of tribulation, Kehlani decided to pursue a singing career. She started out in a group, PopLyfe, which made it to the finals of America's Got Talent. After being told by judges that she was better off on her own, and with the help of Nick Cannon, Kehlani finally got into a studio to record her music. The talented singer laid down beautiful tracks, emulating some of her influences: Erykah Badu, Jill Scott, and Lauryn Hill.
After two successful mixtapes, Kehlani took a break. During her absence from the scene, Kehlani began publicly dating, but life took a turn for the singer when she was accused of cheating on her boyfriend with an ex, by an ex. Fans became haters and were not shy about saying so. Kehlani received a mass of malicious and derogatory comments on social media, most slandering her sexual behavior. She fell into a deep depression, deleted her social media, and came close to taking her own life. However, her new album is a highly anticipated comeback.
SweetSexySavage (SSS) is a 19-track album with a song for any mood. Each song is candid and creative, so listeners can relate. The album is a collection of songs about the exploration of self. The songs take listeners on a roller coaster ride of the artist's, and their own, emotions. Kehlani did not dull down her edginess at all. SSS is a concoction of sugar, spice, and everything nice. The album exemplifies its title with sweet songs like "Piece of Mind," sexy songs like "Everything is Yours," and savage songs like "Do U Dirty." SSS is a paradox of transparent confession. Kehlani addresses her feelings and shortcomings unapologetically with interesting samples from artists including New Edition and Akon.
Some may say that SweetSexySavage is repetitive and lengthy, but the repetition may speak to the album's meaning as a whole. There is a message Kehlani is sending her fans, exes, and haters: I am me, and I am okay with that. What cannot be denied is Kehlani's blissful singing. Her ability to make something lewd sound wholesome, and something mellow sound dangerous, is true talent. Perhaps after this album, fans will see much more of the artist. As she stated, Kehlani is definitely "one-hundred percent music."