Pep Band revs up energy at basketball games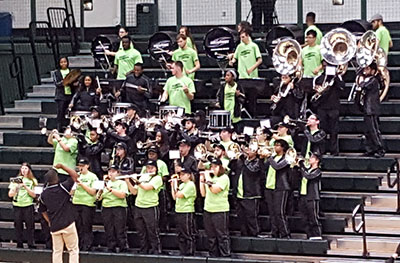 Stevenson University's Pep Band of students brings an energetic atmosphere to home basketball games. Whether it is a women's or men's game, the Pep Band will be in the stands to do its job… to Pep.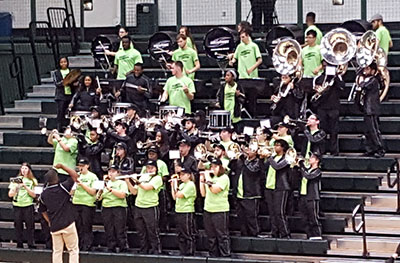 This band has been around for only two years. Inaugural director Terrell Smith arranges the music with marching band director Mark Lortz. Creating this brand of music at Stevenson takes a great deal of planning, recruiting, and "creating the right kind of vibe for kids to want to be involved," said Smith.
Pep Band member Lauren Aversa said, "Being in the Pep Band definitely instilled a greater sense of school pride in me. Through wins and losses, I couldn't be more proud to be a Stevenson Mustang."
The Pep Band has a different energy than the Marching 100. Members play indoors and follow a faster-paced game. Spectators are more engaged with the students in the band, which makes the basketball game an experience, not just a sport. "When we play [certain songs], we can see the players get more energized," said Smith.
Students must stay engaged in the game, and know that when something exciting happens, they have to react to keep up the full energy.  Although they do not play during away games, the band clearly makes an impression on the crowd where they are present.
It takes a certain personality to be in the Pep Band.  For Smith, that formula consists of being "high energy, fun, amazing."  Much like a sport, the band takes a lot of energy, hard work, leadership, and team-based commitment. Smith believes that band members are as committed to the group as any set of athletes. He explained, "They're in an organization where every person is counting on the person next to them… every member is equally important… we demand the best from every person."
Pep Band is open to students who have had at least one semester in the Marching 100. Interested musicians can contact Smith through campus email.
Leave a Comment
Donate to Stevenson Villager
Your donation will support the student journalists of Stevenson University. Your contribution will allow us to purchase equipment and cover our annual website hosting costs.