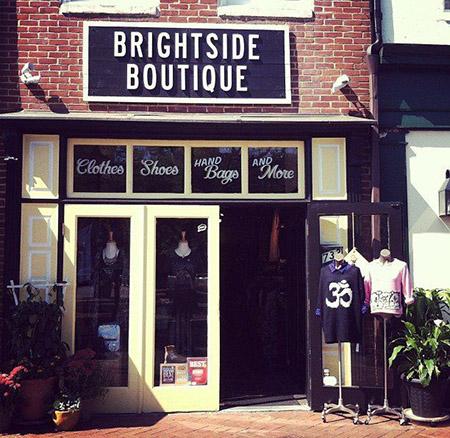 While venturing the streets of downtown Baltimore in Fells Point, a welcoming, bright yellow storefront with the cutest romper on a mannequin in the store window beckoned me; the funniest chalkboard sign posted on the outside of the store proclaimed its name as Brightside Boutique.
Store atmosphere
Popular, mainstream hip-hop and R&B music plays over the speaker for all visitors. Although the music was uncensored, it seemed to fit the carefree and unapologetic store branding. On this early Saturday morning, the store wasn't overly crowded. It was clean, and the clothing was neatly displayed throughout the space, not cramped like some other boutiques. The accessories and home décor items were also nicely presented.
However, there is no bathroom and parking can be a bit of an issue since the store is located in downtown Baltimore, so expect to hunt for some street parking or cough up some coins for the parking meters.
Clothing style
Brightside Boutique offers a very trendy, edgy style with a splash of femininity. The store also carries contemporary brands such as QUAY Australia, Spitfire, BB Dakota, Free People, and a lot more.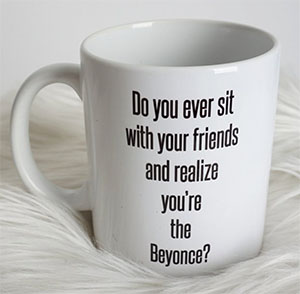 Brightside offers more than just women's apparel. There are also accessories, fragrances, beauty products and home décor items with the sassiest and most hilarious slogans, such as coffee mugs asking, "Do you ever sit with your friends and realize you're the Beyoncé?"
Pricing and quality
Though the clothes are trendy, they are also affordable. There is not one item priced over $100, which can be a major source of conflict for most small boutiques and the lack of funds for most college students.
Quality is also not an issue. The merchandise that Brightside has to offer comes from well-known designers. The jewelry pieces, however, looked very dainty. So, potential buyers, beware about how you store and handle any jewelry bought here.
Sizing
Most of the clothing items at Brightside Boutique seem to run pretty true to size. They come in very general sizes: small, medium, and large. Perhaps an extra-small and an extra-large option should be readily available for consumers who don't fit middle-of-the-road sizing.
Customer service
The customer service provided is excellent. The employee with whom I interacted was extremely pleasant and helpful by sharing her opinions on certain styles that I was indecisive about. She was also very knowledgeable about the merchandise. In our conversation, I picked her brain a little bit about the owner's goals for the store in the future.
The owner of Brightside Boutique is a New York native, Christie Griffiths, who graduated from Towson University. As she continued to shop in New York, Griffths eventually opened up her first location of Brightside in Federal Hill when she realized that Baltimore was in need of a unique boutique. In just a little over a year since the store opened, Brightside Boutique was named "Best New Boutique" by Baltimore Magazine and got featured on "50 Coolest New Businesses in America" in Business Insider. Griffiths is opening her third location in Hampden later on in the year.
Since I ended up purchasing a few items from Brightside, my items were carefully wrapped in a signature
bright yellow tissue paper and taped together with a sticker that said, "Thanks Babe." Even though this touch seems really small, it was a nice, personal effect that showed customer appreciation.
Overall reaction
It's obvious that the items for sale at Brightside are good quality and carefully selected. The boutique does a great job keeping customers coming back for more with trunk shows, social media discounts, and ladies nights.
Gentleman, don't worry – the store will soon launch a men's line, so you can also enjoy the Brightside Boutique experience.
Brightside Boutique currently has two locations. One is located in Fells Point, at 732 S Broadway Baltimore, Md., 21231 and one in Federal Hill, 1133 S Charles Street, Baltimore, Md., 21230.