Stevenson University, one of the leading universities in providing career development and preparation for its students, strives to provide plenty of opportunities to attend networking events and interact with external organizations. An outstanding example of one of these career-building events is the Business Breakfast Hours.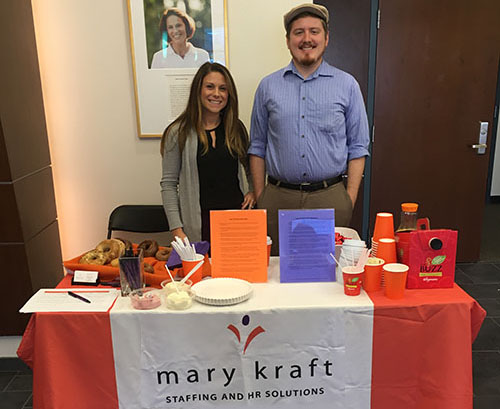 Business Breakfast Hours are informal networking events in which various businesses and organizations from the Baltimore/D.C. area come and give students a chance to learn more about them. These events provide students with direct contact to those organizations so that they can learn first-hand what is available for potential internship or job opportunities in the future.
Business Breakfast Hours are hosted in the lobby of the Brown School of Business and Leadership building. These events run from 9-11 a.m. on either a Wednesday or Thursday depending upon the week. The hosting organizations typically provide coffee, juice, bagels, or doughnuts that students can enjoy while they discuss job opportunities with representatives from each company.
"I am looking forward to meeting with employers casually without the pressure of a formal meeting or interview," said senior business communication student Hailey Bedford. This is exactly the type of opportunity that the Business Breakfast Hours offer Stevenson students.
Some employers that have hosted Business Breakfast Hours in the past included Medifast, Enterprise, Classic Catering, Changing Lives at Home and ADP. This semester's hosts thus far have been MassMutual Mid-Atlantic, World Financial Group and Enterprise again.
Jennifer Wheeler, the industry specialist for the Brown School of Business and Leadership, said that their goal is to "have at least one employer each week" at the Business Breakfast Hours. Currently Northwestern Mutual is scheduled to host on March 1, 2017, and Mary Kraft Staffing will host on April 5, 2017. More employers will be added as the semester continues.
Students can find the schedule of companies hosting the Business Breakfast Hours in the events section of Handshake (scc.stevenson.edu). In addition to the Business Breakfast Hours schedule, students can also find other upcoming career-building events posted there. Jennifer Wheeler strongly suggests that Stevenson students of any major check it out for themselves; it can be a very useful tool. Students can contact her via email at [email protected] if they wish to suggest any future companies for these Breakfast Hours as well.