The Stevenson women's ice hockey team is ready to fight for what they believe is rightfully theirs as they head into the playoffs.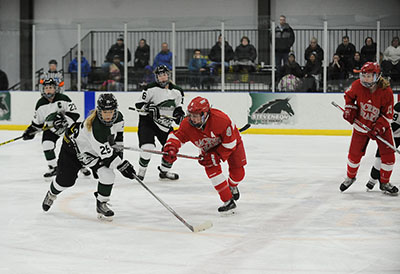 "None of us take playing time for granted. We just go out and fight every time," said junior Kellen Wittman. The Mustangs are the Colonial Hockey Conference (CHC) ice hockey champions from the previous season.
After a tough weekend of games against SUNY Canton, the Mustangs added a loss and a tie to their record. They are now 13-10-1 and 7-4-1 in the conference.
Although the Mustangs are heading into the playoffs with a recent loss, they still are confident that they will come on top once again.
"We are upset as a team that we put ourselves in this position with our play from this past weekend, but we have to use that to fuel us this coming weekend because it's a 'win or go home' situation now," said junior Chelsea Blackburn. After losing to SUNY Canton, the team is now seeded third in the playoffs.
The Mustangs have been using their experienced junior class to lead the team. During the season, the freshmen had to quickly learn the dynamics of how the team plays, while the sophomores stepped up and showed that they can fill the missing spots.
"This team is so diverse based on the experience each of us has, but I think that has played to our advantage in a way," said Wittman.
This season has been challenging at times for the Mustangs, but overall a successful one. Blackburn was named a Colonial Hockey Conference Player of the Week, while freshmen Annie Smyth-Hammond was named the Rookie of the Week. Junior Monica Pozur was named to the weekly honor roll.
The Mustangs, the No. 3 seed, will play in the CHC Quarterfinals on Saturday, Feb. 25 at home against Johnson & Wales University at the Reisterstown Sportsplex.
The Mustangs faced Johnson & Wales University three times during the regular season, winning twice.
The team's goal is simple and reachable: "We want to win another CHC championship. We won it last year, and the plan is to defend it," said Blackburn.