Claire Moore: "Discover your passion and pursue it"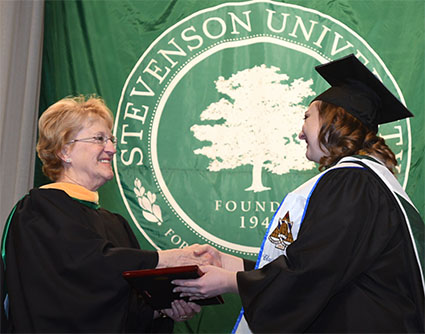 Claire E. Moore has taken over the reigns of the university as interim president since November 29, 2016. Moore, having served the university for over 30 years in various positions, began as a student and continued to become interim president of the university.
Following Kevin J. Manning's retirement as president due to health reasons, Moore was selected as the interim president. As Moore described the experience of learning that she had been chosen, she said, "First it was real surprise. Then at the same time I was truly honored to be asked. I wanted to help President Manning. I felt this mixture of surprise and honor to serve this institution that I love."
Moore has experienced the growth of the university throughout the years. Although the university has undergone many changes, she said that the culture has always remained intact. Moore would describe the culture as one of respect: "[Respect] permeates our university — respect for each other and our surroundings. Stevenson students have a visible image of respect and care."
Moore's first position working at Villa Julie was director of student activities. Moore was then promoted to director of campus life, managing clubs, activities and events around campus. As director of campus life, she remembered typing each individual ID card on a typewriter and running them through a laminating machine before distributing them to students and staff.
Her next stepping-stone was becoming Stevenson's dean of students. As such, she managed residence life, student activities, counseling, and student judicial affairs.
Reflecting on her various positions, she said, "How blessed I am to have been at Stevenson for 35 years. I have the opportunity to come to work every day and enjoy the people."
Moore's experience in the different aspects of student life made her the perfect candidate to become the vice-president of student affairs as well as a member of the president's cabinet in 2005.
"I took on more responsibility of what needed to happen for Villa Julie to grow, whether it was the director of student activities or the director of campus life, that just meant we were growing into a wider area. In each area there were people on campus that collaborated to make things work. We had to grow to meet the needs of what was going to happen next," she explained.
Moore has a vision for the university that starts with the completion of the boardwalk bridge. "When the bridge is completed, Owings Mills will become a beautiful campus where students will be able to have the best of both worlds with OM and OMN."
With a lot of speculation around the purchase of the Rosewood property, Moore joked, "I really picture Rosewood as a part of our beautiful campus because we have been working on acquiring it probably longer than you've been living."
Moore wanted to leave some advice for the Stevenson students, advising them to find what they love. "Discover your passion and pursue it," she said.
Leave a Comment
Donate to Stevenson Villager
Your donation will support the student journalists of Stevenson University. Your contribution will allow us to purchase equipment and cover our annual website hosting costs.