Stevenson's Relay for Life team hosted a dodgeball tournament in the Owings Mills gymnasium on Feb. 26 to raise support for a cancer cure.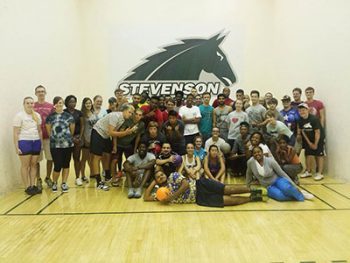 The Student Government Association, the Dodgeball Club and the Relay for Life team battled one another with a purpose. "Although there weren't any official winners, the teams bonded and came together," said senior Emily Thursby.  Each team not only played the game, but also helped to raise money for the cause.
Participants of the event got a chance to learn about cancer and enjoy the competitive atmosphere. They also were able to purchase luminary bags, stickers, T-shirts, cups and bottles.
Since the Relay legacy was started by Dr. Gordon Klatt in Tacoma, Washington, in May of 1985, the American Cancer Society has reached 20 countries and 5,200 communities, including Stevenson, which is in its fifth year of collaboration.
Stevenson's Relay for Life not only raises support for those who have cancer during the 12-hour fundraiser, but some Relay members also help serve at the Baltimore, Md., Hope Lodge center every semester. Volunteers are partnered with those who have cancer, through cooking, mentorship, and other duties. The Hope Lodge is free for patients and helps connects families and patients in an inviting fashion.
"Going to Hope Lodge to cook tacos and talk to cancer survivors has been the most impactful experience since joining Relay," said junior Cory Ott. Thursby added that making a point to go to the Hope Lodge and interacting with new people and new faces has been her biggest takeaway
The official Relay for Life event begins on Friday, April 21, at 5 p.m. in the Owings Mills gymnasium. Relay's organizational team plans to meet survivors, learn about their stories, and work alongside the Stevenson community.
The money raised will also go towards the American Cancer Society programs, including Look Good Feel Better, Hope Lodge, the Cancer Hotline, Road To Recovery and Reach To Recovery, according to Ott.
A student vs. staff basketball game, traditionally called "March Madness," on Thursday, March 24 from 6 – 8 p.m. in the Owings Mills gym will help raise money for Relay for Life, including raffle prizes, giveaways, performances, and food.