Link helps students find success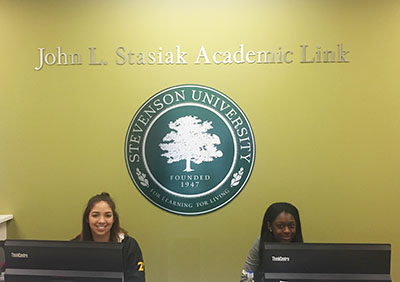 At Stevenson University, a multitude of resources and workshops ensure that each student has the best possible chance at success. One of the main sources of help for students at the university is through the Academic Link.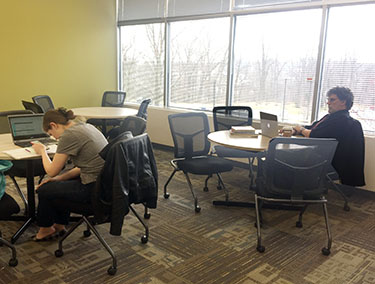 "The Link" not only offers tutoring and test proctoring, but it offers programs and workshops to help students maintain effective work habits and studying skills. The Academic Link has been providing services such as these for over 38 years.
There are actually two Academic Links; one is the John L. Stasiak Academic Link located on the main campus next to Rockland in Garrison Hall South 100, recently moving from the Caves Wellness Center. This site is open from Monday through Thursday 8 a.m. – 9 p.m.; Fridays from 8 a.m. – 4:30 p.m.; and Sundays from 5 – 9 p.m. The Academic Link at Greenspring is located in Knott Hall 201 and is open Monday through Thursday 8 a.m. – 7 p.m. and Fridays from 8 a.m. – 4:30 p.m.
This spring semester the Academic Link will hold a Student Success Series from the beginning of February through the beginning of May. There will be seven sessions, each presented by a different faculty member. Two-year employee of the Academic Link, Aleiah Pointdexter, said, "You really don't want to let beneficial things like this go to waste. At another university you would most likely have to pay for a lot of the resources that are provided here for free."
STUDENT SUCCESS SERIES BEGINS
All sessions of the Student Success Series will be held in Rockland Conference Room B on Tuesdays and Wednesdays. Each session will be held over the course of two days, on Tuesdays from 1-2 p.m. and Wednesdays from 4-5 p.m.
The series started off on Feb. 7 with "Mastering Studying: Metacognitive Learning," presented by Erica Dumke. This session covered practices to incorporate into students' daily habits in order to become stronger learners.
The second session was "Understanding Exams: Developing Test Strategies," held February 21-22 and was presented by Emma Coomes.
The third session will be on "Successful Balance: Managing the Clock," presented by Fran Jackson March 7-8. This session will present a new look at balancing the multiple obligations that students face.
The fourth subject is "Taking Notes: Making the Most of Class," which has been planned by Wendy Stevenson  for March 21-22. This session will discuss effective strategies for using class time wisely.
The fifth session is "Always Improving: Smarter Not Harder," to be presented by Philip Gillett, who hopes to provide innovative ways to learn material in today's world. It will be held April 4-5.
The next session will be "Never Forget Again: Memory & Concentration!" Carrie Holzmeister will present this session April 18-19 and over skills for increasing retention of material necessary for success.
The last discussion will be "Going the Distance and Finishing Strong," to be presented by Kevin Knudsen. This session will discuss motivational practices to keep students focused towards the end of the semester and will be held May 2-3.
The schedules for each session as well as printed information are available at each Academic Link as well as the Student Information desk in the Kevin J. Manning Academic Center on Owings Mills North campus.
Leave a Comment
Donate to Stevenson Villager
Your donation will support the student journalists of Stevenson University. Your contribution will allow us to purchase equipment and cover our annual website hosting costs.