The allure and buzz around their inaugural season has gone; Stevenson's women's beach volleyball team is now looking to make an impact in their second season.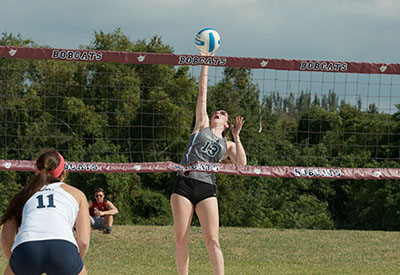 Last year, the team finished with a record of 6-10 playing against Division I and II teams. This year, still playing against some steep competition from non-Division III schools, the Mustangs sit at 8-5 as of March 18.
"Last year we really had no expectations," said head coach Dave Trumbo. "This year, it's a lot different in the fact that we have a year's worth of experience, and we have recruited three beach players to go along with our team from last year, so the expectation is a lot higher."
With only a limited number of travel spots available for each tournament, the level of competition within the team has surged. Different pairs of players can challenge the other pairs above them to try and take their seed. Junior Lauren Weaver said, "It's kind of like tough love." Trumbo added, "I do think it's very tough because we are pitting teammates against teammates."
The Mustangs had a successful spring break tournament, including taking two matches from Huntington University, shutting out the Foresters five sets to none. That same day, they also beat Principia College four sets to one. The Mustangs have also beaten Missouri Baptist University, St. Thomas University, and Florida National University this season, but dropped to Eckerd College and Texas A&M Kingsville.
The competition has been tough for a Division III school in just their second season, but the team knows that playing stronger competition will help them improve. "You don't learn anything from winning. That first year, we won more than we expected, but losing to those DI and DII teams taught us what to expect," said Weaver.
The Mustangs are off until April 1 when they travel to the University of North Carolina at Wilmington. There, they will face UNCW, Mercer University, and the College of Charleston in a tri-match. All three teams are in Division I and should prove to be a good measurement for a Mustang team that is hitting its stride in season two.