Stevenson's Tau Theta chapter of the Alpha Kappa Alpha (AKA) sorority will host a weeklong celebration in honor of its chartering called Tau Theta week. Stevenson's chapter began on April 3, 2011.
Ranging from open forums to charity events, Tau Theta week will be full of activities, all hosted by the sorority.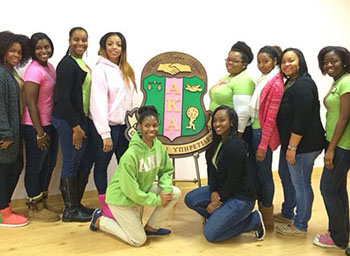 Alpha Kappa Alpha is the first African American-established Greek-letter sorority. Founded by Ethel Hedgeman Lyle at Howard University in 1908, the sorority is a proud member of the "Divine Nine," the name for the nine historically black Greek-letter organizations. Alpha Kappa Alpha promotes sisterhood and excellence with the motto of "By Culture, By Merit."
Junior Ryan Collier is the current president of the Stevenson chapter of Alpha Kappa Alpha. In her second term as president, Collier said, "It's been a real pleasure to be able to work with these girls and to develop each other, as well as be in touch with great leadership positions." She takes great pride in her sorority and wants to host more events at Stevenson.
For Collier, "AKA is a great place, and a great environment to be around like minded women who have goals of service, friendship, and scholastic achievements. AKA is a place where you can improve yourself and help improve others; you carry each other through life."
Tau Theta week begins on April 4, kicking off with a "Girl Code vs. Guy Code" forum in the Ratcliffe Center at 7:08 p.m. The following night there will be a "Let's Talk About It" forum, a social/political event also held in the Ratcliffe Center at 7:08 p.m. Following this event, the next night will offer an open volleyball game called "Spike It." This event will be held on April 6 on the freshman quad volleyball court.
For more information on Alpha Kappa Alpha and their Tau Theta week, consult the Stevenson Portal.