Stevenson has made some notable campus improvements for students and faculty, including the Manning Academic Center (MAC) and the boardwalk bridge between the Owings Mills and North campuses. From April 3-7, the University Advancement Office will be set up around campuses for students to say thank you to campus donators,  according to Brittany Appleby-Rumon, a junior at Stevenson University.
O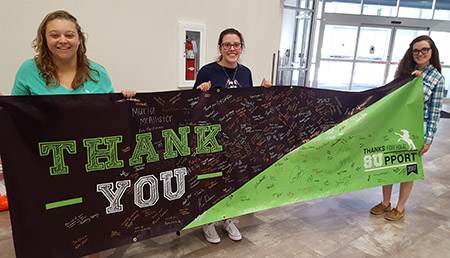 ver the course of the week, there will be a large banner on campus for students to sign that simply says, "Thank you for your support." The banner will be hung at the Scholarship Luncheon, an event where all scholarship recipients get to meet with their donors and thank them.
The Office of Advancement plans to put gigantic tags on different places around campus that have been made possible by donations including the bridge, the athletic stadium, the Lynn Duncan room and more.
According to Appleby-Rumon, "Thank-A-Giver week is a week dedicated to celebrating donors who reduced the costs of Stevenson education and provide us with the technology and up-to-date facilities that we need to grow and derive as a university." Donors are able to put a face to the students who benefit from their donations.
Only 72 percent of students' education is covered by tuition; the other 28 percent comes from donors.
Appleby-Rumon gave some examples of the kind of help that donors provide:  "The Manning Academic Center and the bridge were almost exclusively financed through funding to the school."  In addition, the nursing program recently received over a million dollar grant, providing labs for students.
Students will also be given the opportunity to write personalized thank you cards and be involved in interactive games about philanthropy to win prizes. Stevenson will also partner with the United Way and the Food Pantry, who will be joining in Thank-A-Giver week activities to give back to the community.
In addition to thanking donors, the university would like to recognize faculty and staff members who give back as well. Over 60 percent of faculty and staff contribute to Stevenson. During Thank-A-Giver week, they will be given a pin that reads "I Give" as acknowledgement of their contributions.