Stevenson University offers students a wardrobe closet of business attire located in Wooded Way for those who cannot afford or do not currently own professional business attire, through the Office of Career Services.
The Success Closet began a little over a year ago with the idea of helping students gain access to professional attire at a low cost. The closet began with members of the Stevenson Community donating professional business attire. The Success Closet grew when there became an overload of clothing for students to have and use.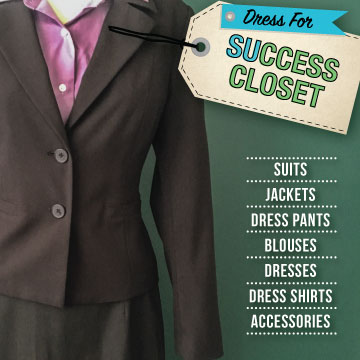 Jen Wheeler, the industry specialist for the Brown School of Business and Leadership, encouraged students to make use of this closet, noting that it was filled with a wide variety of sizes, styles, colors and outfits. There are multiple racks of business attire including designers like Loft, Anne Taylor, Men's Warehouse and Jos. A. Bank.
Students are able to go to the Success Closet and pick out three items, all for free. The closet currently has men's blazers, ties, dress pants and dress shirts of all sizes. Clothing for women includes dresses, dress shirts, blazers, dress pants, shoes, jewelry and more, of all sizes as well. All of the items have been donated though clothing drives, from faculty and from past students.
The Success Closet will also offer a 'Trunk Show' to be co-sponsored by the F.A.D. Club (Fashion Apparel and Design) and Enactus. The trunk show will offer a variety of items that are available for students in the Success Closet, as well as ideas for the best outfit for interviews, business meetings and on-campus job opportunities. The next trunk show will be held on April 6 in Wooded Way from 3:30 p.m. to 6 p.m. sponsored by Career Services, Enactus and the F.A.D. Club.
"The F.A.D. Club will also be helping students put together looks and styles that are professional in nature all for the best fit," said Dr. Holly Lentz-Schiller, assistant professor of fashion merchandising.
Some students have struggled to find professional business attire to either buy or wear to an internship or an on-campus job interview. The Success Closet has the potential to offer the perfect opportunity for those who may not want to pay to have a suit tailored to their size when there are plenty of looks and styles available. Students have full access to this closet with assistance of anyone in Career Services.