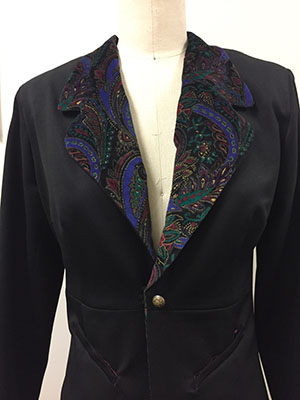 Fashion design majors are busy preparing for their annual fashion show. The show showcases individual collections of students' work from their current design classes. Many of the models showing off the work are Stevenson students or friends of the designers, according to sophomore fashion design major Jacey DeJordy.
Though she is an underclassman, sophomore DeJordy chose to create a more complex style of clothing. Specifically, her jackets include a mix of masculine and feminine styles.
"It's not very easy to find formal women's wear that isn't a dress, so I had to create it myself. In the future I want to continue to make women's formal wear that has a more androgynous design," said DeJordy.
She believes it is important to design versatile options for those who do not want to wear dresses, but still want to fit into a formal setting.
After changing many of her sketches during the design process, her end product finally matched her inspiration: vintage menswear, old smoking jackets and tuxedo coattails. DeJordy's plans for expanding this design would be to make different versions of the jacket, with a line of similarly tailored coats in different fabrics.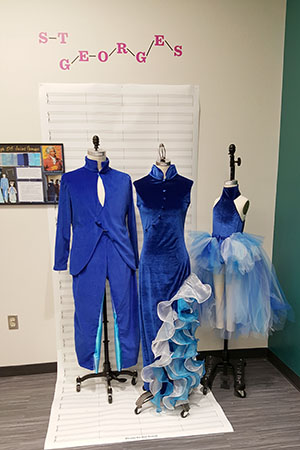 Junior fashion design major Allison Jones is co-producing the show with Candace Cruise. Jones has her own collection in the show in addition to managing the models, making sure scenes of the show are organized, guiding the rehearsals and overseeing the finale.
Jones' clothing line will feature rich, velvet-inspired pieces. The designer said her art was inspired by classical music from the 1700's and the composer Chevalier de Saint-Georges.
She is working on a plan to create her own custom-design house. She wants to run her own "couture atelier," or high-fashion line.
Stevenson's fashion design students will hold their sixth annual fashion show on April 29 at 7 p.m. in the Inscape Theatre on the Greenspring campus. Tickets are $10 and are available through Leah Aronhime, staff coordinator of the show.