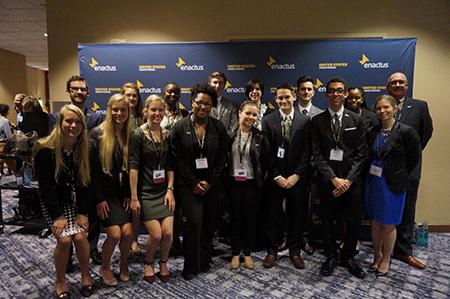 Stevenson's ENACTUS (Entrepreneurial Action for Us) team competed in their first regional competition on March 31. The team got a chance to showcase an entire year's worth of projects that were designed to help improve communities.
ENACTUS is a community of students, academic and business leaders who are committed to using social enterprises to transform lives and shape a better world. This year, the regional competition was held at the Hyatt Regency Crystal City Hotel in Arlington Virginia. The team departed from Stevenson Thursday evening and competed the next morning.
In previous years, the Stevenson group had attended the competition only as observers, since the club had fewer than 10 members. The club has now grown to more than 30 members with a passion for making a difference.
Fourteen members made the trip; four of them were a part of the pitch team who presented their projects to a panel of 12 judges consisting of CEO's, CFO's and hiring managers from well-known companies including Coca-Cola, Walmart and Enterprise Inc.. Students on the pitch team were seniors Mackenzie Wieder, Agyeiwaa Quashie, Peter Klausner and junior Jessie Dubyoski.
Teams were given 17 minutes to present each of their projects and convince the judges to forward them as contenders in the national competition. Stevenson's ENACTUS used their time to talk about their four projects: Art with a Heart, the Cool Kids Campaign, and the development of a success closet.
Art with a Heart is a project led by Quashie that sells students' art in Baltimore. The revenue goes towards a work development program called Heartworks that works to develop soft job skills in the homeless and youths aged 14-24.
Developing a success closet that would eventually turn into a functional thrift store was pitched by Wieder and junior Lindsay Somuah.
"We were developing what the success closet was and revamping it into something that sells clothes to generate money that goes into creating job opportunities for the community," said Wieder.
Although Stevenson's team was unable to qualify for nationals, they took a lot of positives away from the competition. The competition was not only just a showcase; it was also a career fair and a great networking event.
"We had a couple people come up to us after our presentation from the Baltimore area asking how they could get involved," said Dubyoski.
The club was inspired by the experience. All those who attended were able to grow because of it, whether they were on stage in front of possible future employers or being able to relate to other universities and organizations with the same goal in mind.
"It is definitely good to see that there are so many people who want to make a change in their community and the world," said senior Elizabeth Kamosa, a team member.