The new Stevenson University Dell Family Pathway has opened, connecting the Owings Mills campus to the Owings Mills North campus. The 586-foot-long bridge offers an additional transportation option for students, faculty, staff, and visitors.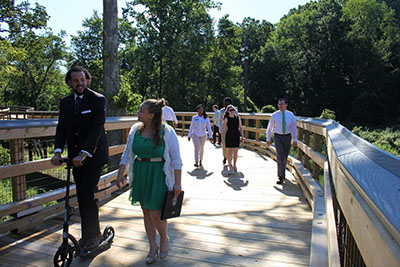 The pathway, which stretches from the beach volleyball courts to the parking lot adjacent to the Kevin J. Manning Academic Center, was planned to achieve several initiatives including promoting a healthier lifestyle and connecting the north and south sides of the Owings Mills campus.
According to Steve Close, vice president of university advancement, Samuel Dell III, a member of Stevenson's Board of Trustees, has been a very generous and thoughtful donor for many years.
Dell considers Stevenson a great community and believes that the pathway between the north and south ends of the Owings Mills campus was important for his family to sponsor since it connects the residential and academic parts of the campus.
Close explained that it has always been meaningful to Dell to include his family's support of the Stevenson community, conveyed through the "Dell Family Pathway" name.
On April 18, 2017, the Dell Family Pathway was dedicated to the Dell family, but only officially opened to pedestrians at the beginning of the spring 2017 semester.
Sophomore Savana Herndon said that the Dell Family Pathway makes Stevenson's campus feel like a unified college.
A scenic route for student travel, the pathway is surrounded by a vast wooded area and a picturesque view of Mustang Stadium, with the Gwynns Fall Floodplain traveling underneath the bridge. The walk from Rockland to the Manning Academic Center takes approximately 13 minutes.
Since the Gwynns Falls Floodplain flows under the highest point of the bridge at 25 feet, the Dell Family Pathway took longer to construct than expected, but has inspired some future plans for the pathway.
The pathway currently contains viewing platforms, ample lighting, and blue emergency phones which connect directly to campus security. Stevenson plans on adding informational signs or plaques across the bridge that will educate pedestrians about the native plants, trees, and wildlife they may see while on the pathway.
According to sophomore Thomas Foschini, the Dell Family Pathway has created a quicker, more efficient form of travel from the south end of the Owings Mills campus to the north end. Students have also mentioned that they enjoy getting a bit of sun and fresh air between classes.