Stevenson University will implement a new way for students to register for spring classes. This year, the university will switch to a new system called Student Planning for class registration.
The system has been tested over the past few months and will be fully implemented for the spring 2018 registration session. Instead of using WebXpress, students will now go to a new website, which will soon be added to the Stevenson University portal.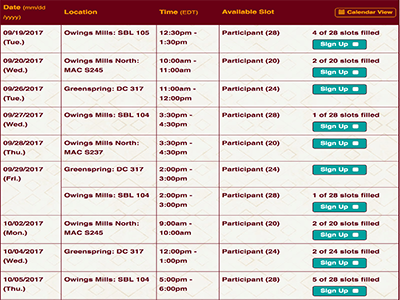 Erika Dumke, director of academic advising, said that the new system "is beneficial to students because it gives them added flexibility and ownership when choosing courses" and allows students to plan ahead towards graduation.
Dumke added that the system contains different features from the previous system, including the ability to plan multiple semesters, receive alerts about prerequisite requirements, search for specific SEE required courses, access a calendar view of classes to help accommodate other time commitments to prevent mistakes in a student's schedule, and the ability to communicate directly with an academic advisor.
Overall, Dumke said, registration will offer a much faster process for students who fully plan their semester schedule to include course sections, as they will be able to register for all planned sections with one click of the "Register Now" button using the calendar feature.
Last semester, students from various majors were invited to participate in a pilot program of the Student Planning program.
One of those student participants, Yina Dong, said the new process overall was "easier to learn, faster to use, and more convenient for students to select classes without having to worry about overlapping your schedule because you can see everything all laid out in front of you."
To learn more about Student Planning and how to use the new program, students can attend a training session that reviews the features of the new site. The training sessions have already begun, but they will continue up to the time of registration.
Students can sign up for a session through this link: http://www.signupgenius.com/go/409094ba9aa2ba3ff2-student2. The training sessions are approximately an hours and located in computer labs on all campuses. The first 30 minutes will be for training, and the last 30 minutes will be for students to further explore the site. However, if you are unable to attend, more information such as written instructions and videos of the registration process will be sent to students via Stevenson email along with their date and time of registration for the spring semester.