Yoga provides wellness benefits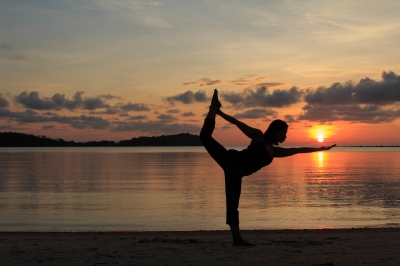 Students on campus have turned to yoga sessions for health and wellness benefits. Additionally, yoga practices are very inclusive allowing almost anyone to join.
Some benefits of yoga, if practiced regularly, are reduced back pain, improved sleep quality and mood, a better sense of well-being and quality of life, improvement in heart health, and greater overall physical fitness.
According to the American Osteopathic Association (AOA), yoga "can create strength, awareness and harmony in both the mind and body."  Yoga also can benefit students by lessening chronic pain, lowering blood pressure, and helping to address issues of insomnia.
"Yoga can be very effective in developing coping skills and reaching a more positive outlook on life," notes the AOA. Thus, the mental benefits can help students learn to concentrate better and relax when needed.
Free sessions are held Tuesdays from 3:30-4:30 p.m. in the Menning Meditation Center on the Greenspring campus and Fridays in the Wooded Way common room on Owings Mills from 1-2 p.m. Students may choose to attend regularly or drop in occasionally.
Led by instructor Liz Schulman, the sessions are free to all students. Attendees must bring their own mat or towel and a good attitude. All skill levels are welcome.
Sam Papavasilakis, a senior fashion design major, said, "It's something that I have been into since I was in high school, and now I'm fortunate enough to have the opportunity to continue practicing yoga weekly at Stevenson."
Outside of all the well-known health benefits, yoga can serve as a community building exercise. While a college campus can be a place to meet new people and make new friends, it can also be a very intimidating place. Yoga brings people from different backgrounds together to participate in an exercise that focuses on health and creates common ground.
More information is available in the Wellness Center.
Leave a Comment
Donate to Stevenson Villager
Your donation will support the student journalists of Stevenson University. Your contribution will allow us to purchase equipment and cover our annual website hosting costs.