One of the nation's foremost scholars on Jane Austen will be presenting at Stevenson University from 5:30-6:30 p.m. on Wednesday, Nov. 29 in the Rockland banquet hall. This will be the second annual event in the guest speaker series hosted by Stevenson's Humanities and Social Science (HaSS) departments. During the event, Dr. Devoney Looser will discuss her research and writings from her recently published book, "The Making of Jane Austen."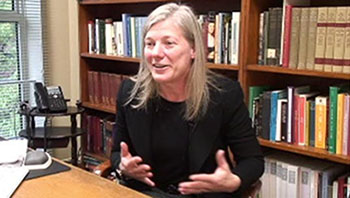 For Looser, the event is part of a countrywide speaking tour to discuss her latest novel. After its publication, "The Making of Jane Austen" received widespread attention and was featured as a topic of discussion within many major publications including CNN, PBS and the Wall Street Journal.
Though she lives and works in Arizona, Looser has ties to the greater Baltimore area. In addition to spending fellowship time at Goucher College, "The Making of Jane Austen" was published locally by the Johns Hopkins University Press.
The publisher writes, "Just how did Jane Austen become the celebrity author and the inspiration for generations of loyal fans she is today? Devoney Looser's The Making of Jane Austen turns to the people, performances, activism, and images that fostered Austen's early fame, laying the groundwork for the beloved author we think we know."
Looser also has personal ties to Stevenson. Fellow Jane Austen scholar and Dean of Stevenson's School of Humanities and Social Sciences, Dr. Cheryl Wilson, first met Looser in 2012. Wilson participated in a five-day Jane Austen research event in Missouri, which Looser organized. Wilson described the event as a career-changing opportunity, mainly owing to Looser's organization, execution and enthusiasm for Jane Austen.
HaSS speaking events are annual presentations given by visiting experts on topics of interdisciplinary interests within the social sciences and humanities departments. HaSS speakers are chosen through a nomination process by faculty members in related departments.
Stevenson faculty members Dr. Eileen McGraw and Dr. Joseph McGraw established the fund responsible for HaSS speaking events last year. According to Wilson, the McGraw fund is "a way to bring people who are leading scholars in their fields here to Stevenson to talk with Stevenson students and the Stevenson community." As HaSS events grow, there is hope to include other colleges in the events and activities. Both Hopkins and Goucher were invited to participate in this month's HaSS speaking event.
Though last year's event took place in the Greenspring library, this year's HaSS presentation will take place on the Owings Mills campus in hopes of increasing accessibility and convenience for students and other attendees.
For more information, students can email Dr. Cheryl Wilson through campus email.