Stevenson University's Office of Campus Recreation has expanded the number of fitness experiences offered this year, including 30 unique group classes and all-inclusive day or overnight outdoor adventure trips.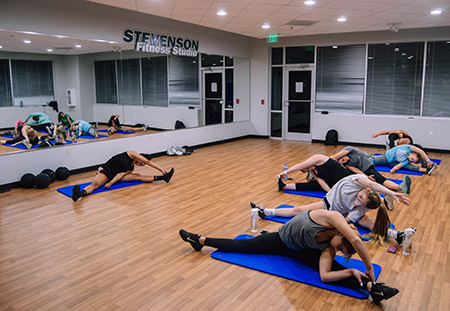 Newly introduced group fitness classes include Yogalates, HardCORE, Women on Weights and more. Classes are offered at a wide range of times to accommodate students class schedules, including late-night options beginning at 9:30 p.m. Many of the classes are housed in the recently renovated Wooded Way fitness studio, in addition to Garrison Hall North and the original Caves Fitness Center.
"We are reworking Caves all around: fixing the equipment, bringing new equipment in. It's going to be a whole new look," said Laura Waginger, assistant director of campus recreation.
According to Waginger, campus recreation emphasizes student empowerment. In a majority of the fitness courses, students are taught by their peers, whom have received nationally recognized certifications courtesy of the department. Students can utilize the certifications in a professional setting after college.
Senior Rebecca Gruver was introduced to BODYSHRED this semester, taught by sophomore instructor Taylor Mills.
"I always wanted to go to the gym, but I never knew what exercises to do. Having the classes is really helpful because it motivates me to go and learn new exercises," said Gruver. "It's a set workout planned for you, which is really nice."
While many enjoy the convenience of on-campus training, students also have the option to venture off campus and train outside of the classes provided at Stevenson.
The paddleboard and kayak day trip on Sunday, Sept. 23, will kick off the fall 2018 outdoor adventures. An overnight backpacking experience in Harpers Ferry, West Virginia, and hiking exploration at Irvine Nature Center will follow in October and November. These experiences allow for students to connect with the community outside of Stevenson University.
The campus recreation website notes that outdoor activities cater to beginners and experienced participants alike. Trips take into consideration college students' budget and range from free to $50 for a more involved trip. Transportation, gear, and tour guides are included unless otherwise noted.
While the expansion of campus recreation has already proved successful, Waginger said that the department plans to grow even more, potentially offering both fitness challenges and dance fitness classes. Feedback had been positive thus far.
Campus recreation launched a new website this summer where students can obtain class descriptions, meet the staff and provide feedback. Connect with campus recreation on Instagram and register classes at IMLeagues.