Peer group fitness instructors are attracting interest across campus at Stevenson University.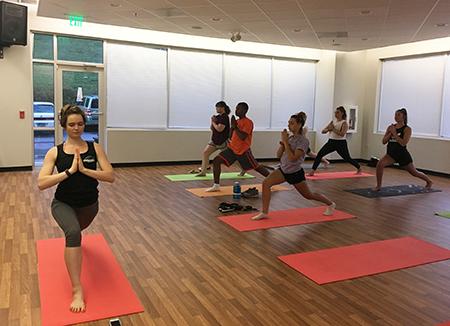 Laura Waginger, assistant director of campus recreation, oversees a team of student fitness instructors who teach classes for students as well as faculty and staff who want to engage in physical activities during their free time.
A few classes offered are High Intensity Interval Training (HIIT), TRX Circuit Training, Yogalates, BOSU Burn, Zumba, Women on Weights, Pilates, BODYSHRED, HardCORE, and Butts N' Guts.
Students, staff and faculty can sign up for these classes on Stevenson's fitness website in the section labeled "all classes," and sign up for the appropriate class.
There is also an app called "Imleagues," that is iPhone-and Android- compatible, which interested applicants can download to sign up for fitness classes at Stevenson University. All of these group fitness classes are free to attend with an SU ID. Instructors recommend that participants come 10-15 minutes early because class sizes are limited.
"Students take these fitness classes because they want to better themselves, whether it be fitness or wellness-wise," said Waginger. Students who attend these classes and see other student peer leaders learn that they could be doing the same thing if they work hard for it, she added.
The first group of fitness instructors were introduced during the spring 2018 semester. During the summer of 2018 the instructors obtained more certifications as they prepared for the current term in preparation for the extensive group of fitness classes that are being offered.
Becoming a fitness instructor on campus is a relatively easy process; interested students attend a job information fair that campus recreation hosts, followed by a series of either interviews or auditions in order to qualify for certification of the course that they want to instruct.
The impact of the group fitness instructors around campus is nothing short of what Waginger would describe as "empowering."
Waginger took on the task of building a fitness culture from the ground up because there was a strong desire for group fitness classes at Stevenson.  "A lot of students who are not used to going to the gym and working out on their own are not quite sure what to do, and the group fitness classes are a huge help for students who want to get into fitness," Waginger said.
For more information on group fitness classes or how to become a group fitness instructor, email Waginger through campus email or visit the Stevenson intramural fitness page.