The journey to New Zealand is a long one. After 10 years, we finally made it back. The first time was a big family trip to visit my cousin and explore the new country he was living in. See, the thing is he went there on vacation and never came back. He's come back to America a few times to visit, but his home is now New Zealand. And when we got there, we quickly realized why he didn't want to leave. The country is beautiful and the people are friendlier.
The time had finally come to go back to New Zealand. After an exhausting round of finals, I finally got the chance to unwind and celebrate Christmas with my family. Knowing the long flights ahead of me I planned to keep myself awake on the 6 hour flight to L.A. so that I'd be able to sleep through the 13-hour flight from Los Angeles to Auckland.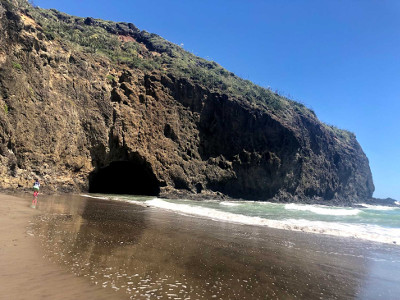 At the crack of dawn, the day after Christmas, we boarded our first flight to Los Angeles. 6 hours later, we arrived. I quickly realized that my plan had failed miserably; I slept the whole flight.
Now it was time for our three-hour layover in LAX. Seems like a lot of time, right? Wrong. By the time we got from the domestic flight section of the airport to the international flights section we only had about 45 minutes before boarding. Now we had to rush and get food. Keep in mind we were in LAX. We got to the food court and every single restaurant had super-long lines. After standing in the pizza line for half an hour, we only had about 10 minutes to eat. We quickly sat down to eat. I couldn't miss the brief opportunity to look for famous people. I noticed, about 5 feet away from us was the actor Mario trying to hide in the corner. He clearly didn't want to be recognized and I didn't have much time so I did not go up to him.
The second we finish eating, we hear our flight being called. So we get to the gate and we get in line. We're standing in line and I start talking to the guy next to us. Turns out he's a professional rugby player from Canada who was moving to New Zealand because he got recruited for their national rugby team. Finally we were on board the big plane to Auckland and I was nervous because it was a 13 hour flight and I had already slept for 6 hours. Luckily for me, I was so exhausted from finals that I also slept most of that flight also.
Finally we made it to New Zealand. As soon as we walked out the customs door, we saw my cousin waiting for us. With as many bags as my mom and aunt took, we barely fit in the car. I was so happy my cousin didn't live far from the airport. As soon as we got to his house and put out bags down, we were on the beach. This is where the fun and danger started. Everything adventure we took was fun, however they all ended up having an element of danger.
Our first day there, we were enjoying Bethells Beach and we saw a cave in the mountain a good distance away. Even though that sand was scorching hot and burning out feet, we decided to walk all the way the explore that cave. We were almost there, about 15 feet away, and suddenly the ocean aggressively took over the sand that we were walking on. The water slammed all of us into the mountain and took us all under. By the grace of God we all found something to brace ourselves and the ocean calmed back down within 10 seconds. It seemed like longer.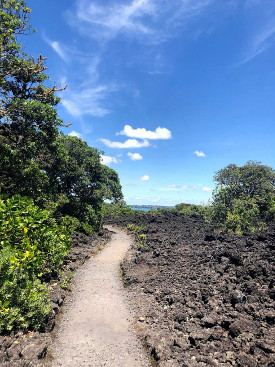 So, all bruised and shaken up, we quickly made our way back down the beach. We made it back to safety and just sat there for a minute before we left.
Next on our adventure list was to hike a path on an inactive volcano. The destination was Rangitoto Island, a small island with a volcano that is strongly preserved by New Zealand's government. My cousins tried to warn us that it was going to be extremely difficult and that there was no place to refill our eater if we ran out. So we packed big frozen water bottles. Because of global warming, New Zealand has no ozone layer, which means that there was no protection from the sun's rays and that the weather always felt hotter than it actually was.
We arrived at the beautiful volcano and got right into our hike. About halfway up, passersby told us about a tiny cave that could take us through to the other side of the path. We hadn't learned our lesson with caves yet. We successfully made it through this one, though. The hike was so steep that there were stairs installed so that people wouldn't slip or fall. After an excruciating hike we finally reached the peak of the volcano. It was all worth it. The 360° view was breathtaking.
After a well-needed break for a couple days, we embarked on our deep-sea fishing trip. Excited upon arrival, we searched for our boat…then we found it. It was one of the smallest in the port. Staying optimistic, we still boarded excited to see who caught the most fish.
Once we undocked and started sailing, we noticed how windy of a day it way. We came about 2 feet close to capsizing many times. All the rocking of that small boat quickly made me, and somehow only me, seasick. So I found a tiny nook and took a short nap. Finally we were out far enough to start catching fish. We had packed lunch, but as soon as the pulled out barely-frozen fish as the bait our appetites went away.
Anyway, we caught a lot of fish. Those were just a few or our wild endeavors on our second trip to New Zealand. We seem to always find new, fun things to do.
Next year, we are going back because my cousin is getting married. I can't wait to see what else we find to do. This time my mom's and my journey will not be as long being that we are moving to Hawaii this summer. I still talk to my new friend almost daily although he is now in Mexico playing for their national football and rugby teams. Even though we found our lives in danger quite a few times, we still enjoyed ourselves and would do it all again. However, I might be by myself on the volcano.